Historical Drama.
Olivia de Havilland plays Ana de Mendoza, a swashbuckling, sword-toting princess. Her loyalty to her king, Philip II of Spain (played by Scofield) is put to the test. You can read more about the film here.
Dir: Terence Young
Cast: Olivia de Havilland, Gilbert Roland, Christopher Lee, others.
THE RED CARPET: DIARY OF A JOURNEY (1956)
Documentary.

The historic 1956 Peter Brook/Paul Scofield production of Hamlet in Moscow.
Participants: Mary Ure (narrator), Paul Scofield, Ernest Thesiger and Richard Johnson and others.
CARVE HER NAME WITH PRIDE (1958)
Drama.
Based on the true story of Violette Szabo, a heroic British spy who was captured and executed by the Nazis. Scofield plays British Intelligence Officer Tony Fraser, a man torn between duty and his love for Violette.
Dir: Lewis Gilbert

Cast: Virginia McKenna, Jack Warner, Billie Whitelaw and others.
Art-loving Nazi Colonel von Waldheim (Scofield) cannot bear to leave a collection of Modern Art behind during the German retreat from Paris in the final days of World War II. He tries to take the paintings he loves with him. Resistance fighter, Burt Lancaster doesn't understand the significance of the paintings but follows the orders of the leaders of the French Resistance who want the paintings to stay in France.
Dir: John Frankenheimer

Cast: Burt Lancaster, Jeanne Moreau, others.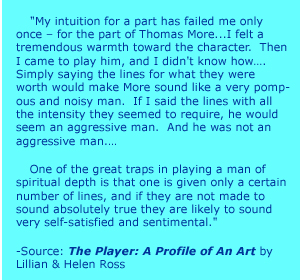 Historical Drama. Sir Thomas More, the 16th century statesman and scholar, must sacrifice either his integrity or his life to appease despotic Henry VIII. Sadly, the script did not use More's summing up of the situation: "They may devour me, but they will not deflower me." Scofield does a miraculous job of making More--a genius, scholar, statesman and saint--a human being with real insides. Exceptional ensemble acting and production values make this film way above average, as evidenced in the fact that it won 6 Oscars. In the words of actor/screenwriter Kevin Smith (Dogma, Clerks) "This movie is like porn for somebody who loves language."
Kevin Smith's in-depth analysis of the film is available on his website.
You can read the 1961 Time Magazine Review here.
A good, if heavily edited, background article can be found at the Buffalo Film Seminars Web Site.
Studley Priory, the house used as Sir Thomas More's house at Chelsea in the film, is profiled here.

Dir: Fred Zinnemann
Cast: Paul Scofield, Wendy Hiller, Leo McKern, Orson Welles, John Hurt, Robert Shaw, Vanessa Redgrave, Nigel Davenport, others.

TELL ME LIES:A FILM ABOUT LONDON (1967)

"Following the disturbing film version of Peter Weiss's Marat/Sade, theatre director Peter Brook and Glenda Jackson reteamed for another all-out assault on the senses with this satirical swipe at the Vietnam War. This time, however, the chaotic structure (it's a mixture of sketches, music and news footage) fails to hold the attention and now seems self-indulgent rather than radical. Worth a look, though, if only for the eclectic cast which includes novelist Kingsley Amis, Patrick Wymark and Paul Scofield."
http://www.radiotimes.com/servlet_film/com.icl.beeb.rtfilms.client.simpleSearchServlet?frn=15963&searchTypeSelect=5
(accessed 7/22/09)
An in-depth review, Atrocities at the door: Peter Brook's Tell Me Lies, images of terror and brechtian aesthetics, is at http://www.thefreelibrary.com/Atrocities+at+the+door:+Peter+Brook's+Tell+Me+Lies,+images+of+terror...-a0194486567
Story by Melville moved into the 20th century. Scofield plays the kindly boss of an employee whose behavior becomes more difficult by the minute.
Dir: Anthony Friedman

Cast: John McEnery, Thorley Walters
NIJINSKI: UNFINISHED PROJECT (1970)
Bio pic scripted by Edward Albee with Rudolf Nureyev playing Nijinski and Scofield playing Diaghilev.
Dir: Tony Richardson
Cast: Rudolf Nureyev, Claude Jade
Controversial adaptation of Shakespeare's play.

Dir: Peter Brook

Cast: Irene Worth, Patrick Magee, Cyril Cusack, others.
"...a screenplay that sounds like a Get Smart script that took itself seriously." -New York Magazine, September 17, 1973.
Spy Drama. Disillusioned CIA agent Cross (Burt Lancaster) is being hunted by his former protegee and best friend, Jean Laurier (Alain Delon). Zharkov (Scofield), a cuddly yet lethal Soviet spy offers protection. Great scenes of Washington DC in the 1970s, including Harden and Weaver playing on the radio! Interminable car chases.

Dir: Michael Winner

Cast: Burt Lancaster, Alain Delon, John Colicos, others.
Adaptation of Edward Albee's Pulitzer Prize-winning play. The "delicate balance" of a reclusive couple's marriage is threatened by visits from disfunctional relatives and friends. Scofield plays the husband, Tobias, a repressed New Englander.
Dir: Tony Richardson

Cast: Katherine Hepburn, Kate Reid, Lee Remick, Joseph Cotton, Betsy Blair

COLERIDGE - THE FOUNTAIN AND THE CAVE (1974)
Documentary.
The life and poetry of Samuel Taylor Coleridge. Scofield reads a selection from The Rime of the Ancient Mariner.
Dir:Bayley Silleck

THE DOCTOR AND THE DEVILS (1977)
Adaptation of Dylan Thomas film script dealing with the infamous body snatchers, Burke and Hare. BFI Database says this was an "unrealised project."
Dir: Michael Winner
Documentary on the history of the Royal Navy.
NINETEEN-NINETEEN, a.k.a. DAYS ON THE COUCH (1984)
Drama. Two of Sigmund Freud's former patients (Maria Schell & Scofield) meet to discuss their analyses. A haunting film about people caught in the maw of history. Colin Firth and Paul Scofield respectively play the youthful and middle-aged Alexander Scherbatov.
"What Brody (and Ignatief, together with their remarkable cast) have succeeded in representing – to a truly astonishing extent – is a vision of the complex intertwining of current experience, personal memory, and world historical events." -- Discussion of the Film '1919' by Richard M. Gottlieb, M.D.
Dir: Hugh Brody

Cast: Paul Scofield, Maria Schell, Colin Firth, Frank Finlay, Amanda Quick, Clare Higgins, Sandra Berkin, and others.
Production Company: British Film Institute (BFI) and Channel Four Films. Distributors: International Spectrafilm (1986) (USA)
Read the New York Times Review here. For another review and a synopsis, go here.
DVD's of 1919 are now available. For ordering information contact Face-to-Face Media.
"Taylor is an employee of Essex Small Arms who is sent to Bath to collect some secret documents from the Ministry of Defence." BFI Database.

Dir: Ricardo Seal
Cast: Nick Richardson, Andrew Brown, Maro Pacifico

Drama. Children's film. Set in the Scilly Islands in 1844. A local eccentric known as the "Birdman" (Scofield) helps two children lift a curse from their island.
Dir: Clive Rees

Cast: Helen Mirren, David Suchet
HENRY V (1989)

Scofield plays the French King
Dir: Kenneth Branagh

Cast: Derek Jacobi, Kenneth Branagh, Brian Blessed, Emma Thompson, Ian Holm

HAMLET (1990)

Scofield plays the ghost of Hamlet's father. An excerpt showing the meeting between Hamlet (Mel Gibson) and the Ghost can be seen here: Hamlet meets his father's ghost (excerpt) http://www.youtube.com/watch?v=hNVS59BF-vo

Dir: Franco Zeffirelli

Cast: Mel Gibson, Glenn Close, Alan Bates

UTZ (1992)

Film adaptation of Bruce Chatwin novel.
A bull-headed Czech china collector confounds Soviet authorities. Scofield plays the collector's best friend, Dr Vaclav Orlik.

Although shown in cinemas, this was originally made for - and eventually shown as part of - the 'Screen Two' series. Shown theatrically outside the UK.

Dir: George Sluizer
Cast: Armin Mueller-Stahl, Brenda Fricker, Peter Riegert

Dir: Robert Redford
Cast: Ralph Fiennes, John Turturro, Rob Morrow
Scofield narrates an ironic travelogue of London in the 1990s.
Dir: Patrick Keiller
GENESIS - THE CREATION AND THE FLOOD (1994)
Narrator (English Version)
Art film. First and only theatrically released part of a 20-episode adaption of the bible.
Dir: Ermanno Olmi
Drama. Based on Arthur Miller's play about the Salem Witch Trials. Scofield plays Judge Danforth as a sort of evil twin to Sir Thomas More in A Man for All Seasons.
Dir: Nicolas Hytner
Cast: Daniel Day-Lewis, Winona Ryder, Joan Allen
ROBINSON IN SPACE (1996)

Narrator. Ironic travelogue. Britain and its industries in the 1990s.

Dir: Patrick Keiller
House video of Scofield's last theatre performance as Borkman, 'a visionary banker who makes a Faustian pact; gives up love for power and ends up with neither.' The British Library Sound Archive has a VHS cassette (mono) recorded on 18 July 1996 at the National Theatre, Lyttelton. The programme is filed separately at DOC0001603. The Theatre Museum (Victoria and Albert Museum) National Video Archive of Performance has a VHS cassette recorded on 30 November 1996. The call number is VIDEO 96/14/A/9000.
Dir: Richard Eyre
Cast: Paul Scofield, Vanessa Redgrave, Eileen Atkins
Animated version of George Orwell's satire. Scofield is the voice of Boxer.

Dir: John Stephenson
Cast: Pete Postlewait, Kelsey Grammar, Ian Holm, Julia Louis Dreyfus

RASHI: A LIGHT AFTER THE DARK AGES (1999)
Animated Children's Documentary. Scofield narrates the story of the Jewish philosopher, Rashi set in 11th century France.
Cast: Armand Assante, Leonard Nimoy
Interview with Alan Hardock. Unable to find a description. May be part of the British-government produced series of short films created to boost Britain's image overseas.