Childhood and Early Career
Paul Scofield's work has fallen into undeserved obscurity. His remarkable voice and extraordinary empathy and insight into his roles shouldn't be forgotten.
In a Fresh Air interview, Michael Caine said that the test of an actor was an ability to "use difficulties;" that is to turn obstacles into opportunities, stumbling blocks into launch pads. Scofield used difficulties brilliantly, turning a voice that was initially described as "harsh, metallic and broken" into an instrument of rare beauty and an awkward gait caused by crippled feet into a cat-like walk that mesmerized audiences. He succeeded in being independent — a sort of "freelance movie star" — at a time when the power of the film studios over actors' lives was virtually unlimited and he inspired artists as diverse as John Hurt, Colin Firth, Felicity Kendal, Christopher Hampton, Kevin Smith and Maria Callas.
Perhaps the most surprising thing about Paul Scofield's biography is that this most cerebral of actors repeatedly claimed that in his childhood he was considered "a dunce."6
David Paul Scofield was born in Birmingham, England. When he was a few weeks old his family moved to Hurstpierpoint, Sussex where his father, Edward Harry Scofield, was employed as headmaster of the Hurstpierpoint Church of England School. 7
Scofield, who used his father's voice for the character of Sir Thomas More, described his father as "a terribly fair's-fair man"…a "disciplinarian."8 Scofield's mother, Mary Wild Scofield, seemed to share her husband's concern with fairness. One theatre-goer recalls Mary Scofield toiling up to the top of the "gods" [i.e., top balcony] of the Theatre Royal, Brighton during one of her son's performances to make sure that the people in the cheapest seats were getting their money's worth.9 Parental example may have been the source of two of Scofield's most remarked upon character traits--unusual courtesy and total lack of "side." Scofield had two siblings. John, three years his senior, became a local government official at the Brighton rate office. Mary, six years younger, "was ill as an adolescent and never recovered. She lived all her life with her mother and father. Illness unspecified."10
Scofield attended his father's school until the age of 11. His extreme shyness and his inability to focus on schoolwork led to his being pigeon-holed as a child of low intelligence. At age 12, he attended the Varndean Secondary School in Brighton where one of the teachers noticed his talent for reading and recitation and cast him in the role of Juliet in the school production of Romeo and Juliet. Scofield was a huge success. He later said, "For a boy who was hopeless at everything else, acting was a tremendous release…"11
Through acting Shakespearean roles Scofield gained the focus that had eluded him in his earlier schooling. By age 14, acting became his passion; schoolmates recall him haunting the stage door of the Theatre Royal in Brighton in the hope of getting walk-on roles.12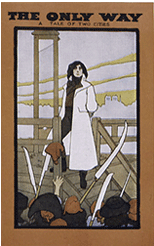 Scofield began his stage career in 1936 at the Theatre Royal, Brighton as a cudgel-wielding sans-culotte in The Only Way, an adaptation of Charles Dicken's A Tale of Two Cities. At 16, he left school without graduating to become an actor. He obtained a scholarship at the Croydon Repertory Theatre School and attended two terms there before it was disbanded due to the outbreak of World War II. He transferred to the London Mask Theatre School where he studied voice with Sybil Thorndike's sister, Eileen Thorndike.
Eileen Thorndike, he said, "had an aptitude for teaching Shakespeare, and because she was a teacher who had been an actress, she communicated an extraordinary love of the work. By showing me her own mastery…of the meanings and of the changes of tone necessary to keep it interesting, she was able to make me understand Shakespeare and the value of each word."13
Scofield's professional career began with a series of mishaps – mumps, a broken ankle, a beating by hooligans.14 His fortunes changed for the better with the outbreak of World War II. Scofield was rejected for military service because of a congenital foot disability and became that rarest of creatures during the war years, a young male actor who was not doing military service. He joined the Entertainments National Service Association (ENSA), an organisation that provided entertainment for British soldiers and personnel, and spent the war years touring England and performing classical plays for munitions plant workers. His disability, which he described as "crossed toes," was described by Richard Burton as more serious. Dick Cavett recalls Burton saying, "'I got a glimpse of them once and it was quite awful. They appeared to have been brutally broken by some torturer and then forcibly tucked under.' He went on to describe how they affected this great actor's ability to walk, demonstrating a kind of swinging stride that was Scofield's: 'I thought it was quite a powerful walk, but poor Paul thought it looked a bit, um, sissified.'"15
This "powerful walk" also drew the attention of theatre critics who described it as "a prowl over quicksands,"16 This was only a small part of "Scofield's unusually rich equipment" which included a sad, lined face and soulful brown eyes that could express fathomless depths of emotion and "flick a sense of danger to the farthest balcony."17 "Scofield's most obvious quality was his ability to bring a poised tension to everything that he did…. his voice, his movements, his facial expressions all combined to stir in the spectator an almost sub-conscious curiosity about what might happen next."18
But first and foremost was Scofield's voice. Described as harsh, metallic and often out of control in his early career, 19 he tamed it into an instrument of rare beauty--urgent and unmistakable--"redolent of winds and oboes," which he used in unconventional ways: syncopating Shakespeare's lines to preserve both rhthym and sense, soaring upward in mid-line and somehow making those upward inflections sound commanding.
Due partly to a shortage of male actors due to the war but mainly to an amazing stage presence that was likened to a volcanic eruption, Scofield experienced a meteoric rise to stardom. In a field where a good actor could normally expect to wait a decade before getting a good supporting role, Scofield catapulted from the status of unknown in 1940 to being ranked with Olivier and Gielgud by 1946. The young man who could not pass his exams became the darling of the academic and theatre worlds; an actor celebrated for delivering brilliant line readings and heart-stopping epiphanies.